Name: Nobuta wo produce (野ブタ。をプロデュース)
Episodes: 10
Broadcast period: from 2005/10/15 to 2005/12/17
Broadcast network: NTV
Genre: Comedy/School
Cast:
HORIKITA Maki as KOTANI Nobuko
KAMENASHI Kazuya as KIRITANI Shuji
YAMASHITA Tomohisa as KUSANO Akira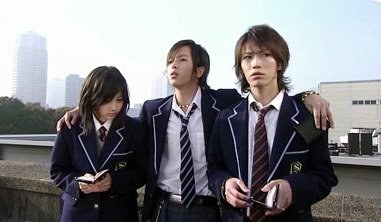 KIRITANI Shuji is a popular guy who gets along with everyone. However, his real personnality is totally different: he is selfish and double-faced.
KUSANO Akura is a student who doesn't have any friend and who doesn't mind about what people think about him.
These two different students are going to work together to "produce" KOTANI Nobuko, a new student who has no self confidence at all and is content at being bullied at school.
Their aim is to make her the most popular girl.